OnDeck Capital Reviews for 2023
---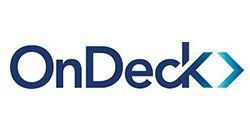 Summary
OnDeck Capital is an online lender that has spent the past decade focused on providing loans to small businesses across the United States. The company prides itself on its responsible lending practices, transparency, customer service, privacy, and security.
Since the company's founding in 2007, OnDeck has lent more than $6 billion to small businesses, creating more than $11 billion in economic impact and creating 74,000 jobs nationwide.
This OnDeck lending review will tell you all you need to know to decide if borrowing from OnDeck is the right choice for your business.
Quick Facts
Maximum Loan Amount
$500,000
Loan Duration
3 to 36 months
Origination Fee
2.5% - 4.0%
Expert Walkthrough
Small Business Term Loan
There are two types of OnDeck small business loans, term loans and lines of credit. A term loan is what most people think about when they hear the word loan.
Once Ondeck reviews your application and approves it, the company will send you the full amount as a lump sum. You will then have to make monthly payments in the same amount until the loan is fully paid off. Once the loan is paid off, you won't receive bills anymore and if you need to borrow more money you'll need to apply for a new loan.
OnDeck offers loans with terms of three to thirty-six months. The largest loan that OnDeck offers is $500,000. The interest rate on the loan will vary based on the amount borrowed, the loan's term, and your business' credit rating. Each loan has a one-time origination fee of 2.5-4% of the loan's amount.
You can get a small business loan for all sorts of reasons. Some of the specific types of loans that OnDeck offer are:
Equipment Financing
Inventory Loans
Online Loans
Retail Loans
Working Capital
Small Loans
Quick Loans
Equipment Financing
One of the most expensive parts of running a business is purchasing the heavy-duty equipment that let you get the job done. For a restaurant that might be commercial strength dishwashers or a pizza oven. For a landscaping company, it might be lawnmowers or tractors. No matter what industry you're in, you need to have the right tools.
Because equipment can be expensive, these tend to be long-term, large loans.
Equipment financing loans give you the money you need to buy the equipment necessary to get your business off the ground. You can then use the revenue you generate to pay the loan back.
Inventory Loans
Are you running a store that's just starting out and need to get your shelves stocked? Do you want to buy products in bulk to reduce costs and improve your profit margins? Inventory financing will help you acquire the inventory you need to keep your business running.
Depending on your business' industry and turnover times, inventory loans can be very short-term or more medium-term.
Working Capital
Your business needs to generate good cash flow to keep itself afloat. If your industry has incredibly good times and incredibly lean times it can sometimes be difficult to bridge the gap between the two.
A working capital loan gives you money in the lean times to help your business make it to the next busy season. It can also help you deal with an unexpected slowdown in business.
Small, Quick Loans
As an online lender dedicated to small business financing, OnDeck is able to offer a number of advantages that you can't find at larger banks. While large banks might not being willing to make small loans because of the low potential for profit, OnDeck makes loans in amounts as low as $5,000.
OnDeck also knows that unexpected situations can pop up quickly and that you need cash quickly to get through them. When you apply for a loan online you can get approved and receive the funds in as little as one business day, helping you keep your business running without any hiccups.
Small Business Line of Credit
Sometimes you don't need a lump sum of cash, just the ability to get some extra capital when you need it. A line of credit gives you that access to cash and the flexibility to only use it when you need to.
You can withdraw money from a line of credit whenever you need it. If you do, you'll get a bill at the end of the month. You can either pay the bill off in full or make a partial payment. If you make a partial payment, you'll incur an interest charge and receive another bill at the end of the next month.
If you don't carry a balance, you don't have to worry about paying interest and the line of credit won't close. It'll stay open and available for when you need it.
OnDeck offers lines of credit up to $100,000 giving your business plenty of flexibility. You can draw money to pay for inventory, make ends meet through lean times, or make small improvements to your business.
OnDeck charges a $20 monthly fee for maintaining the line of credit but will waive it if you make a $5,000 initial draw on the line of credit.
Loyalty Benefits
OnDeck wants to create long-term relationships with small businesses. To help create lasting relationships, the company offers loyalty benefits to its customers. If you have to renew your loan OnDeck will give you a discount on the renewal fees. You'll also qualify for lower prices on each subsequent loan you open.
Referral Bonuses
Do you have friends who are also small business owners? On top of helping your friends find a great lender to work with, OnDeck will reward you for sending business its way.
OnDeck lets you earn money or pass savings on to the people you refer. All you have to do is sign up and start referring people to OnDeck.
OnDeck is a great small business lender because it knows how small businesses work. By focusing on lending to small businesses and only small businesses, it has built a depth of experience in working with all types of business owners. With its high-quality customer service, loyalty perks, and flexible lending options, OnDeck is a great choice for all your business lending needs.
OnDeck Reviews
There are currently no reviews for OnDeck.