(SPG) Starwood Preferred Guest® Business Credit Card from American Express Review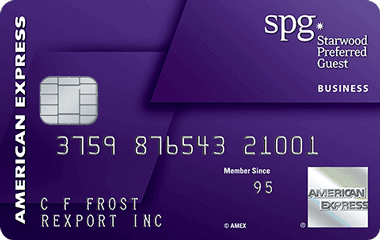 Rewards
Get up to 5 Starpoints for each dollar of eligible purchases at participating SPG® hotels, Earn 2 Starpoints for each dollar of eligible purchases at Marriott Rewards® hotels, Get 1 Starpoint for all other purchases
Bonus Signup Offer
Get 25,000 Bonus Starpoints® after you use your new Card to make $5,000 in purchases within the first 3 months.
Perks
Get 25,000 bonus Starpoints® after you use your Card to make $5,000 in purchases within the first 3 months.
No Foreign Transaction Fees on international purchases.
Receive free in-room, premium internet access. Booking requirements apply.
Enjoy complimentary, unlimited Boingo Wi-Fi at more than 1,000,000 Boingo hotspots worldwide. Enrollment required.
Get free nights at over 1,200 hotels and resorts in over 100 countries with no blackout dates. Some hotels may have mandatory service and resort charges.
$0 introductory annual fee for the first year, then $95.
Expert Walkthrough
The Starwood Preferred Guest® Business Credit Card from American Express (SPG credit card) is a travel rewards card from American Express in conjunction with Starwood hotels, recently purchased by Marriott. Starwood rewards are some of the most lucrative points for travel rewards value, and the SPG credit card is one of the fastest ways to earn Starwood points quickly. This review is specific to the personal version, though a very similar business version exists as well.
SPG rewards credit card basics
The Starwood Preferred Guest credit card is a travel rewards credit card popular with frequent travelers and those who enjoy staying at Starwood properties, which include Sheraton, Four Points, aloft, W Hotels, Le Méridien, The Luxury Collection, element, Westin, St. Regis, Tribute Portfolio, and Design Hotels brands. Thanks to a recent merger with Marriott, points can now be transferred freely between Marriot and SPG accounts, opening up the entire Marriott portfolio of properties as well.
The SPG credit card comes with the following features and perks:
2 free nights at any SPG category 1-5 hotel after spending $3,000 in the first three months you own the card
5 points per dollar spent at Starwood hotels (includes points earned during stay)
1 point on all other purchases
Free stay credits towards SPG elite status – receive credit for 5 nights and 2 stays just for having the card
No foreign transaction fees
Free in-room premium internet while staying at Starwood hotels
Complementary access to Boingo wi-fi hotspots around the world
This card has a $95 annual fee, which is waived for the first year. Cardholders also get access to the typical premium credit card benefits like rental car insurance, travel accident insurance, extended warranty, purchase protection, and more.
This card also gives you access to American Express entertainment options for early concert tickets and exclusive events. But the biggest value is the Starpoints (the official name of Starwood points) you get for your everyday spending.
Highlights
SPG points are considered some of the most valuable travel reward points available. Not only can you use them for stays at any Starwood or Marriott hotel, you can also convert them to airline miles with a 5,000 point bonus when you transfer 20,000 points.
Starpoints can be used to book travel through the SPG portal where 20,000 points is worth $215-$280 in free travel, or you can transfer to one of over two dozen transfer partners including Air Canada, airberlin, AirFrance/KLM, Alaska Airlines, American Airlines, British Airways, Catha Pacific, Delta Airlines, Emirates, Eithad, Japan Airlines, Lufthansa, Singapore Airlines, United, Virgin America, and Virgin Atlantic. That's just a small selection of partners. You can use your Starpoints to go literally anywhere in the world a major airline flies.
However, before you rush and transfer your miles, note that some airlines don't offer such a good deal. You can transfer 1:1 for most partner programs, but at United each two Starpoints is only worth 1 mile (not a good deal). Even worse, at Air New Zealand you get one mile per 65 Starpoints. Terrible deal!
But at big airlines like American, Delta, Alaska, British Airways, and Lufthansa or at luxury airlines like Emirates and Eithad, you can get a huge value per mile. That 5,000 point bonus means you can book a domestic roundtrip flight with airlines like American or United for only 20,000 Starpoints.
Starwood Preferred Guest is also one of the few ways to earn lucrative Alaska Airlines miles, which can be used at its own list of partner airlines. You also get access to American Airlines Oneworld partners and Delta Airlines Skyteam partners. These points are often much more valuable when transferred and booked for air travel rather than hotels.
But that doesn't mean Starwood and Marriott hotels are anything to sneeze at. Using only Starpoints, hotel stays can drain your account quickly. But thanks to Cash + Points redemption options, you can get a much higher value per point than booking with only points.
For example, in 2014 I took my wife on a trip to Spain and Portugal, booked with points of course. We used a chunk of Starpoints for a cash + points redemption at the Sheraton in central Lisbon which normally costs hundreds of Euros per night. We paid $75 + 10,000 points per night, giving us the best value per point and making a stay at this high end hotel much more affordable.
Who is it best for?
This card is best for any frequent travelers, but even more so if you prefer Starwood or Marriott hotels when traveling. Racking up points with the Starwood Preferred Guest credit card is not as fast as some other cards, which offer bonuses on spend categories like restaurants, but each point you earn is worth more than a point at virtually any other program.
The high redemption value and ability to transfer and use with such an extensive list of partner airlines – which is much bigger thanks to American, Delta, and Alaska – makes this card one of the top options for travel rewards available today.
Every time you spend a dollar, you should be earning valuable miles and points. Currently no points are worth more than a Starpoint. Industry experts value Starpoints around 2.2 cents each. However, if transferred to a travel partner and used for business class or first class reward travel, each point can be worth more than 5 cents each.
Do note that American Express cards are not as widely accepted as Visa and MasterCard, so this card works best in tandem with a Visa or MasterCard branded card so you can earn points and miles everywhere you spend, even if American Express is not accepted.
SPG Amex Review
To wrap up this SPG credit card review, let's recap the major benefits:
2 free night bonus at signup after spending $3,000 in the first 3 months you have the card
1 Starpoint per dollar on typical spending, and up to 5 points per dollar spent at Starwood hotels
Book travel through the SPG portal or transfer points to a wide variety of partner airlines, with a 5,000 point bonus when transferring 20,000 points
No foreign transaction fees and EMV chip enabled card for easy use anywhere that accepts American Express
The biggest downside of this card is the recent Marriott purchase of Starwood Hotels. At some point in the future, the two programs will likely be merged into the existing Marriott program, and those points are far less valuable. Try to use your Starwood points before that time for the best value.
This card comes in both a personal or business version. While this review was focused on the personal version, the business version works nearly identically. If you think it makes sense for you, apply now at American Express.
Disclosure: The author of this article used to have the personal version of this card and currently has the business version.
Starwood Preferred Guest® Business Credit Card from American Express Reviews