Charles Schwab Review
---

Summary
Charles Schwab is a leading investment management firm with $2.61 trillion in assets under management. This full-service firm offers robust tools to manage your investments. Whether you are an active trader or a passive retirement focused investor, Schwab has an offering perfect for your needs.

Special Sign Up Promotions

When you become a Schwab client, get up to $500.
Quick Facts
Trade Commission (Stock)
$4.95
per trade
Trade Commission (Option, per trade)
$4.95
Trade Commission (Option, per contract)
$0.65
Charles Schwab Fee Structure
| | |
| --- | --- |
| Trade Commission (Stock) | $4.95 |
| Trade Option (Option, per trade) | $4.95 |
| Trade Commission (Option, per contract) | $0.65 |
| Broker Assisted Trade | $25.00 |
| Mutual Fund Trade Fee | $76.00 |
| IRA Annual Fee | $0.00 |
| IRA Account Closing Fee | $50.00 |
Charles Schwab Tradeable Instruments
| | |
| --- | --- |
| Stocks | |
| Options | |
| Forex | |
| Futures | |
Charles Schwab Features
| | |
| --- | --- |
| 24/7 Support | |
| Virtual Trading | |
| Retail Locations | 300 |
| ATM Fee Reimbursement | |
| Checking Account | |
| Savings Account | |
| Commission Free ETFs | 229 |
| Clearing Company | Self clearing |
Supported Platforms
Trade on your terms. Whether you prefer the power of a native desktop client, the convenience of a web platform, or the mobility of an iOS or Android app, make sure that the brokerage you select works the way you like to work.
Web
Windows Desktop
iOS Tablet
iOS Phone
Android Tablet
Expert Walkthrough
Schwab Is Best For…
Long-term passive investors
Active traders
High net worth investors
Automated investments through roboadvisor platform
Free mutual fund trades through the OneSource Select List
Schwab's Best Offerings
Schwab is known for best-in-class customer service and a wide variety of account offerings and options. Like with most full-service brokerages, all customers have access to buy and sell stocks, bonds, mutual funds, and ETFs either online, over the phone, or at a Charles Schwab office location. Looking beyond the basics, you can see where Schwab really sticks out from the rest of the crowd.
Customer Service - One of the worst parts of dealing with most financial companies is working with customer service. Schwab makes it easy to reach a real human without navigating an obnoxious phone screening system. Reach someone in the United States who has the power to fix your problem with one phone call for common issues.
Schwab OneSource Select List - Schwab has partnered with several mutual fund and ETF providers to complement Schwab's own list of free mutual fund and ETF options. Through the Select List you can buy and sell mutual funds and ETFs with no trade fees or load fees. Funds are available across all market categories.
Online and Mobile Interface - In the 2010s we expect financial companies to offer simple, high quality online and mobile sites and apps. Schwab has set a high bar in this department, offering a website that is modern and easy-to-use. The Schwab mobile app takes your investing with you wherever you go for easy mobile trading and financial management.
Schwab Bank - While not part of its investment offering, any Charles Schwab review would be incomplete without a mention of Schwab Bank. Schwab Bank accounts pay competitive interest rates and offer instant transfers with your Schwab investment accounts. Schwab's Investor Checking offers free ATM use anywhere in the world, and automatically reimburses other banks' ATM fees and charges. This account has no minimum or fees. The only requirement is linking to a Charles Schwab brokerage account.
Intelligent Portfolios - Some investors just want to have everything handled for them automatically. Roboadvisor companies have popped up to manage your investments for you, but with Schwab you get the benefits of a roboadvisor without opening a new account at a new brokerage firm. Get roboadvisor benefits like tax loss harvesting without hiring a 3rd party firm to manage.
Where Schwab Misses the Mark
Some Charles Schwab reviews only focus on the positive aspects of the firm. Here are some drawbacks to consider before signing up for a new account.
Equity Trading Fees - While not the lowest cost in the industry, Schwab offers equity trades for $8.95. This is competitive to other large brokerage firms, but not the lowest cost available. Trades for any Charles Schwab mutual funds and ETFs are free of charge in any Schwab investment account.
Premium Support Reserved for High Net Worth Investors - High net worth investors and select active traders get access to premium support and customer service. While this is a great feature for those investors, it doesn't help investors who are just starting out.
Mutual Fund Trading Fees - While Schwab and Select List trades are fee free, other mutual funds are quite expensive to trade through Schwab's platform.
Account Minimums
Most Charles Schwab brokerage accounts have a $1,00 minimum investment to open. That includes the Schwab One Account, the primary investment account at Schwab, and Charles Schwab IRA accounts.
Schwab Intelligent Portfolios require a $5,000 minimum investment. Managed Portfolios require a $25,000 minimum investment. Other, more complex investment accounts start with $100,000-$500,000 account minimums.
Fees and Commissions
Opening Fee - The majority of accounts at Charles Schwab including the Schwab One account and Charles Schwab IRA have no opening fee. While many accounts have a minimum balance to open, only Personal Defined Benefit Plan accounts, which are rare, charge an opening fee of $1,500 or $1,750 + $200 per participant.
Closing Fee - Most Charles Schwab accounts charge a $50 account closing fee.
Maintenance Fee - The majority of accounts including the Schwab One account and Charles Schwab IRA have no maintenance fees. Again, some less common accounts including Personal Defined Benefit Plan accounts have some maintenance fees. That includes Schwab Intelligent Portfolios accounts. Managed portfolios incur an annual fee up to 1.35% depending on the type of account.
Withdrawal / Transfer Fee - Charles Schwab charges almost no withdrawal or account transfer fees. Pay $25 for wire transfers. Sending a check with overnight delivery incurs a $10 charge.
Trade Commissions -
Standard trade commissions:
Stocks + ETFs - $8.95
Preferred Stocks and REITs - $8.95
Mutual Funds (Select List) - $0
Mutual Funds (Other) - $76 per buy, $0 per sell
Options - $8.95 + $0.75 per contract
Fixed income treasuries (Federal T-Bills, Bonds, Notes, and TIPS - $0
Corporate, muni, and other fixed income bonds - $1 per bond, $10 minimum - $250 maximum
Trade service charges:
Service charge for online trades - $0
Service charge for automated phone trades - $5.00 service charge
Service charge in person, broker assisted trades - $25.00 service charge
Supported Account Types
Schwab One - The Schwab One account is the most basic taxable investment account. It is Schwab's standard investment account for new clients.
Charles Schwab Retirement - Open an IRA in any flavor you choose, or opt for one of the many self-employed retirement accounts like an Individual 401(k), SEP-IRA, or SIMPLE IRA. To open a Charles Schwab 401(k), speak to the HR department if you work for a participating employer.
Trusts - Schwab supports individual trusts, estate accounts, and charitable trust accounts.
College Savings - Open a 529 account through Schwab to manage savings for your child's (or grandchild's) college education with a tax advantage.
Schwab Intelligent Portfolios - Let trusted algorithms manage your investments so you don't have to worry about a thing. Includes tax loss harvesting and more with no additional fees.
Schwab Bank - Open an Investor Checking or Savings account for competitive interest rates and an aggressively anti-fee banking experience.
How to Open An Account (Setup Process)
Each type of account at Schwab works a little differently, so for this Charles Schwab review we will focus on opening the most common account, a Schwab One investment account. You can apply online in about 10 minutes, by phone at 866-232-9890, or at any Charles Schwab branch.
New accounts require the following information:
Social security number
Valid driver's license information
Employer information (if applicable)
Prior month statement or asset information if you would like your account transferred from another brokerage
Phone support is the easiest and fastest method to receive a satisfactory response if you run into any problems or questions along the way.
Trading Platform
Schwab offers multiple different trading platforms. The standard platform is simple and easy to use. Trades are filled nearly instantly in most cases during normal trading hours. Extended hours trades are available as well. Pre-market hours are 8:00 am-9:25 am EST. After-hours trading is open from 4:15 pm-8:00 pm EST.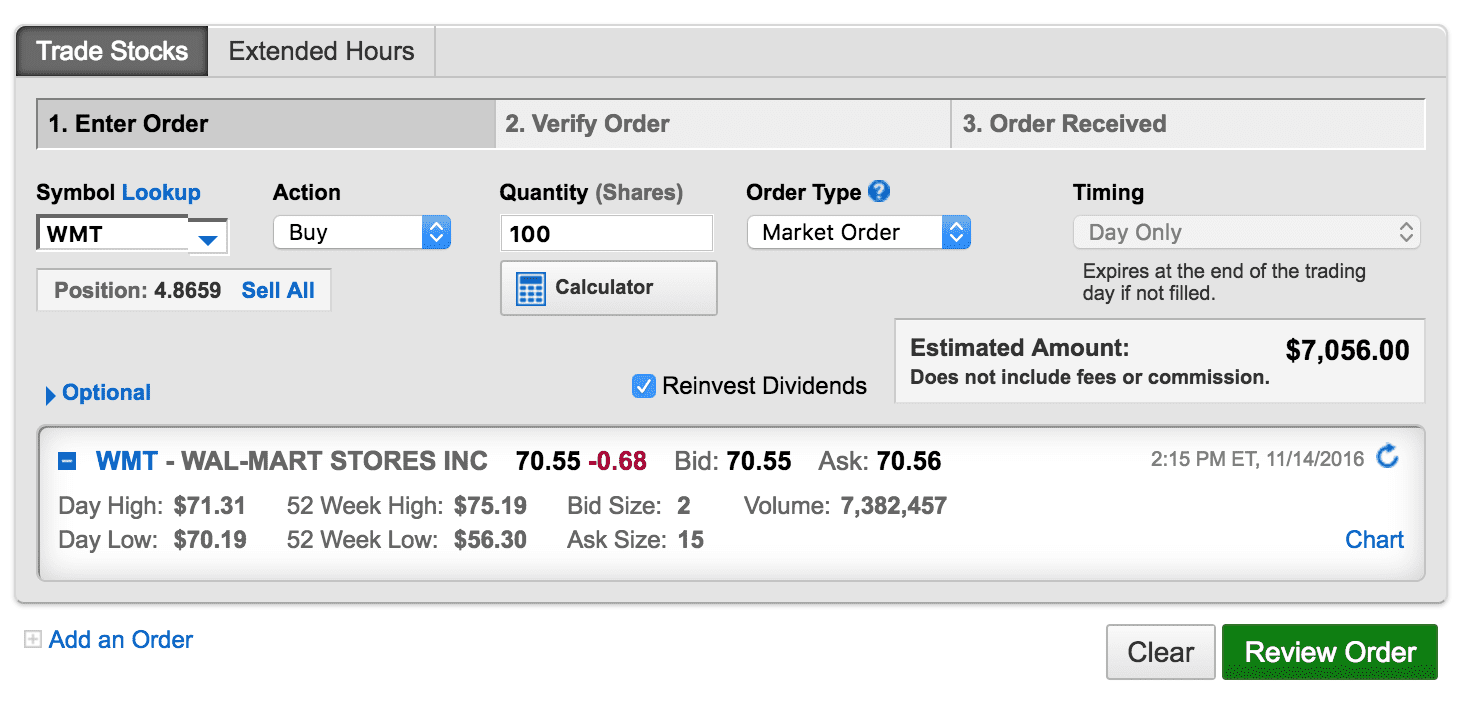 For a more powerful active trading experience, look to the Trade Source platform. This offers instant information with a customizable interface so you can see exactly what you want and need in one place. Trades can be placed through Trade Source in just a few clicks.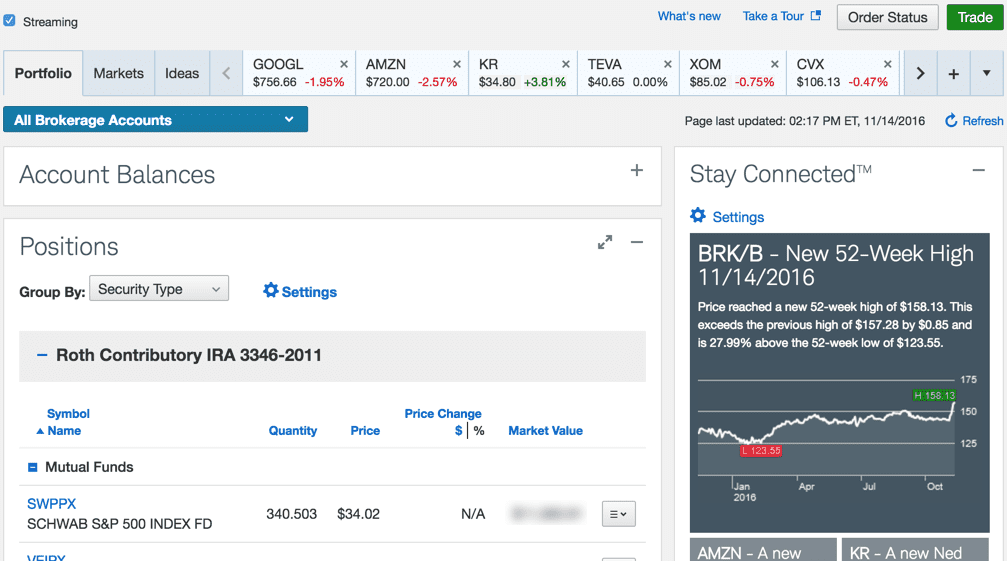 Available Mutual/Index Funds?
You can access virtually all mutual and index funds through any Schwab account. Charles Schwab's own funds and Select List funds trade fee free. Others, such as Fidelity or Vanguard, are available but incur trade fees. Here's a complete overview of Charles Schwab vs Vanguard.
Research and Tools
Schwab offers in-depth reports and information on stocks, bonds, and funds. Log into your account to access news, charts, ratings, financial information, and more. Schwab offers its own equity reports and ratings, plus get access to Morningstar, Argus, Ned Davis Research, S&P Capital IQ, Thomson Reuters, and other reports.
Schwab's research and tools should not be left out of the equation when choosing a brokerage. The offering from Schwab is extensive and offers plenty of depth and an array of opinions to help you make the best investment decision possible.
Support and Customer Service
You can reach Schwab via email through the website or click to open live chat support. You can also call or visit a branch for more personal service. In my experience, phone wait times are under five minutes and most problems are resolved just as quickly.
Going into a branch you may have a short wait to meet with a representative. Emails typically receive a response the same day. In my experience, phone support is the best option when you need help from someone at Charles Schwab.
Security
Charles Schwab offers industry standard security, and goes as far as to offer a 100% security guarantee. The simple, straightforward guarantee says it all: "Schwab will cover 100% of any losses in any of your Schwab accounts due to unauthorized activity."
That said, some users have seen suspicious account activity in the past. It appears that in this case the users had their information leaked elsewhere, and used the same login information across multiple sites. Always use unique, secure, random passwords on each site to improve your own online security.
Uptime and Stability
Downtime is very rare at Schwab. The last major outage apparently took place over three years ago in April, 2013 due to a denial of service attack. Needless to say, this type of downtime is very rare.
Charles Schwab Reviews