Funding Circle Small Business Loans Review 2023
---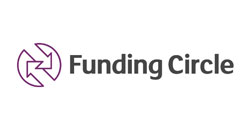 Summary
Funding Circle is a peer-to-peer small business loan provider that has extended loans to more than 25,000 companies across the globe. Funding Circle advertises its affordable rates, transparency, quick turnarounds, and personalized service as what sets it above other small business lenders.
Since the company's founding, Funding Circle has provided more than $3 billion in loans to companies looking to expand their business or refinance existing debts.
This Funding Circle review will tell you all you need to know about applying for one of its loans.
Quick Facts
Maximum Loan Amount
$500,000
Loan Duration
6 to 60 months
Origination Fee
0.99% - 6.99%
Expert Walkthrough
Funding Circle specializes in offering term loans to small businesses. Its loans range in size from $25,000 to $500,000, with terms of six months to five years. That customizability makes it easy for you to get exactly the loan you need.
You can apply for a loan online in less than ten minutes and a dedicated loan specialist from Funding Circle will be available less than ten minutes later. Your dedicated specialist will work with you throughout the life of your loan so you're always working with someone who knows your business' specific situation.
Once Funding Circle reviews your application, you'll get your decision in as little as twenty-four hours. Once you're approved, the money will arrive in your account within days. From start to finish, the full process will take less than ten days.
Funding Circle offers loans for a number of purposes, including:
Expanding
Refinancing
Inventory Loans
Equipment Loans
Whether you want to offer a new line of products, hire additional employees to increase output, or move to a new office space, an expansion loan can help you accomplish these goals.
Because expansion tends to be expensive, these loans tend to be larger and longer term than other loans.
Refinancing
Funding Circle offers very low rates for well-qualified borrowers. Often, the rates are notably lower than other small business lenders are able to offer. That makes a Funding Circle loan a good way to refinance your business' existing debts. You can use the loan to pay off other loans to reduce your monthly payments or save on interest.
Inventory Loans
If you're just starting out or want to stock a new product, you'll need cash to buy goods to stock your shelves. An inventory loan can help you get off the ground and people into your store.
Depending on your inventory turnover rate, these loans can be very short-term or more medium-term.
Equipment Loans
One of the most expensive aspects of starting and running a business is purchasing the specialized equipment needed to run the business. For a restaurant that piece of equipment might be a pizza oven. A landscaping company many need a heavy-duty lawn mower. No matter what your business does, you need the equipment for the job.
An equipment loan gives you the capital you need to invest in equipment. They tend to be large and long-term, giving you plenty of time to use that equipment to earn money to pay off the loan.
Peer-to-Peer Lending
One thing that sets Funding Circle apart from other small business lenders is that Funding Circle does not provide the loans directly. Instead, Funding Circle connects you to investors who want to invest in small business loans. That makes Funding Circle a peer-to-peer lending network. That set up lets Funding Circle offer more loans with better rates than other lenders.
When you borrow $100,000 from Funding Circle, you might actually be borrowing $500 from 200 different lenders. When you make payments on your loan, Funding Circle will automatically divide the payment between the lenders. The lenders will make a return on their investment and Funding Circle keeps a small management fee to keep running and connecting more borrowers with lenders.
Quick Decisions
Despite the fact that Funding Circle is getting the money for its loans from a large group of investors that decide to fund loans on a loan-by-loan basis. You'll be assigned a loan underwriter who will look at your application and contact you within twenty-four hours. Depending on the specifics of your application, your underwriter may schedule a short phone call with you to discuss the application.
If all goes well, you'll have your loan approved within twenty-four hours. Once your loan is approved the money will arrive in your account within a few days.
Small Business Borrowers' Bill of Rights
Funding Circle emphasizes its goal of working with borrowers as partners rather than just seeing them as customers. That's why Funding Circle has published its Borrowers' Bill of Rights, describing how it will work with the companies that borrowing money through Funding Circle.
The Bill of Rights includes the borrower's right to:
Transparent Pricing and Terms
The Right to Non-Abusive Loans
The Right to Responsible Underwriting
The Right to Inclusive Access to Credit
The Right to Fair Collection Practices
You'll never have to worry about hidden fees or loans designed to trap you in an endless cycle of borrowing. You also don't have to worry about being denied a loan because of the type of business you run or who you are.
Lending Circle also refuses to work with third-party debt collectors who treat customer unfairly, preferring to work with borrowers before sending them to a collections agency.
Invest with Funding Circle
If you are an accredited investor with $250,000 or more available to invest, you can make loans to small businesses through Funding Circle.
When a business applies for a loan you'll get to see the details of the application. You can use that information to decide whether to fund the loan. If you do want to help fund the loan, you can contribute as little as $500, with no maximum.
Funding Circle charges a .083% fee on investments each month. As the loans are paid back, you'll automatically receive the principal and interest, minus fees, that you are owed.
Whether you're an individual or a small business, you can use Funding Circle to help support small businesses that need funding.
Funding Circle Reviews
There are currently no reviews for Funding Circle.