Motif Investing Review
---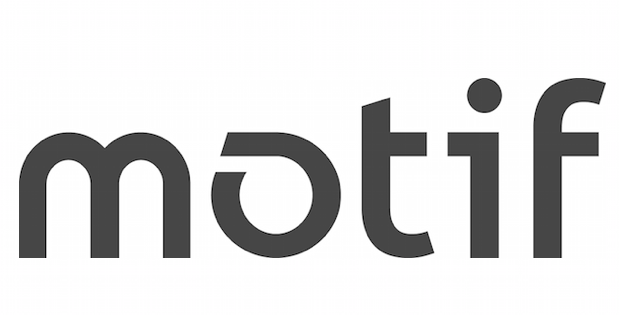 Summary
Hardeep Walia, a former Microsoft Executive who founded Motif Investing, created the platform to help investors gain more control over what they can invest in. Motif offers a theme-based approach for investors to pick an idea to invest in. They also aim to not only give more control to investors but to do so in a low-cost way. For those who want to want to invest in the stock market but don't have a lot of capital, this platform is a good place to start.
Quick Facts
Trade Commission (Stock)
$4.95
per trade
Trade Commission (Option, per trade)
Trade Commission (Option, per contract)
Motif Investing Fee Structure
| | |
| --- | --- |
| Trade Commission (Stock) | $4.95 |
| Trade Option (Option, per trade) | |
| Trade Commission (Option, per contract) | |
| Broker Assisted Trade | $45.00 |
| Mutual Fund Trade Fee | $9.95 |
| IRA Annual Fee | $0.00 |
| IRA Account Closing Fee | $95.00 |
Motif Investing Tradeable Instruments
| | |
| --- | --- |
| Stocks | |
| Options | |
| Forex | |
| Futures | |
Motif Investing Features
| | |
| --- | --- |
| 24/7 Support | |
| Virtual Trading | |
| Retail Locations | 0 |
| ATM Fee Reimbursement | |
| Checking Account | |
| Savings Account | |
| Commission Free ETFs | |
| Clearing Company | Pershing |
Supported Platforms
Trade on your terms. Whether you prefer the power of a native desktop client, the convenience of a web platform, or the mobility of an iOS or Android app, make sure that the brokerage you select works the way you like to work.
Web
iOS Tablet
iOS Phone
Android Tablet
Android Phone
Expert Walkthrough
What is Motif?
Motif Investing is a bit of a hybrid service. It gives you control like an online brokerage for investors who like to DIY, but it's also part robo-advisor. That means you can have as much control as you want, from picking your own individual stocks, or picking from a premade theme, called a motif. These themes are different industries or a group of different stocks that have one idea in common.
If you choose the DIY route, you can select up to 30 stocks or ETFs based on an area of focus and purchase shares in that theme. You also have the option to purchase single stocks or ETFs to add onto an existing motif. You may not get an entire share depending on how much you invest, but owning fractional shares is better than none.
For those who choose to go the pre-made route, there are 150 motifs to choose from. Simply pick one from their interface once you log into your account. From there, you can browse different industries and sectors to see what is currently available. Examples of motifs include "World of Sports" or "Battling Cancer". You can even check ones that have done well over a certain period of time. Motif can also help you choose an asset allocation that is customized your risk tolerance and time horizon with the introduction of their new Horizon models.
Motif Investing also introduced Motif Blue, a monthly subscription service that helps investors by automating rebalancing and investing and providing market commentary as well as commission-free trades.
Motif Investing Is Best For…
Those who want more control over their stock picks
People looking to dip their toes into more active investing without a lot of capital
Beginners new to trading
Those looking for a low-cost option
Those who want to look at what others are trading before making a move themselves
Pros and Cons
Pros
-minimal fees
-no hidden or extra fees
-Get alerts whether or not you're logged into your account
-Large social network: This can help you make more educated decisions and even earn royalties if someone purchases a motif you created.
-Offers active rebalancing
Cons
-Investors will still need to be aware of trends before other investors jump on the bandwagon
-Dividends earned cannot be reinvested automatically. It'll get paid out as cash flow and you'll have to manually do it yourself
-Investors have to pay capital gains tax for all positive returns
Supported Account Types
Standard taxable, IRA, and Roth IRA
Account Minimums and Fees
There is no account minimum, though you'll need at least $300 to start investing in a motif. To trade on margin, you will need a minimum of $2,000. Keep in mind there you cannot do margin trading with IRAs.
There are no commissions, just flat fees with Motif. You get charged $9.95 every time you purchase a motif and $4.95 if you add any additional stocks or ETFs to an existing motif.
If you choose to go with the Motif Blue subscription service, plans start at $4.95 per month to automatically invest and rebalance one motif, up to $19.95 a month to manage unlimited motifs.
There are some fees if you do certain types of transfers. If you want to close and/or transfer out your IRA or Roth IRA, you will have to pay $95. If you only want to transfer some of the funds out, it will cost you $65 only if there is a minimum of $100 left in your Motif Investing account.
In addition, wiring money from Motif Investing will cost you $25. If you want a broker to help you with your trading, you'll be charged $45 per trade.
Opening an Account
Opening an account is easy. All you need to do is fill out your personal details, your SSN and pick the type of account you want to open (you have the option to open other types later). Afterward, you are then asked to fund your account. The approval process differs depending on which method you choose to fund your account.
Motif offers the following options to fund an account:
Bank transfer (usually only takes 24 hours)
Wire and ACH deposits (typically happens within 24 hours)
Mailing a check (will clear on the 4th business day after check is received and cleared)
Account transfers (ACATs) from another broker (may take up to 10 business days, and are only limited to ETFs, cash and listed securities)
Trading Platform
All investing is done in real-time. It really is as simple as that.
To get started, simply log into your account and head over to the "Positions" page: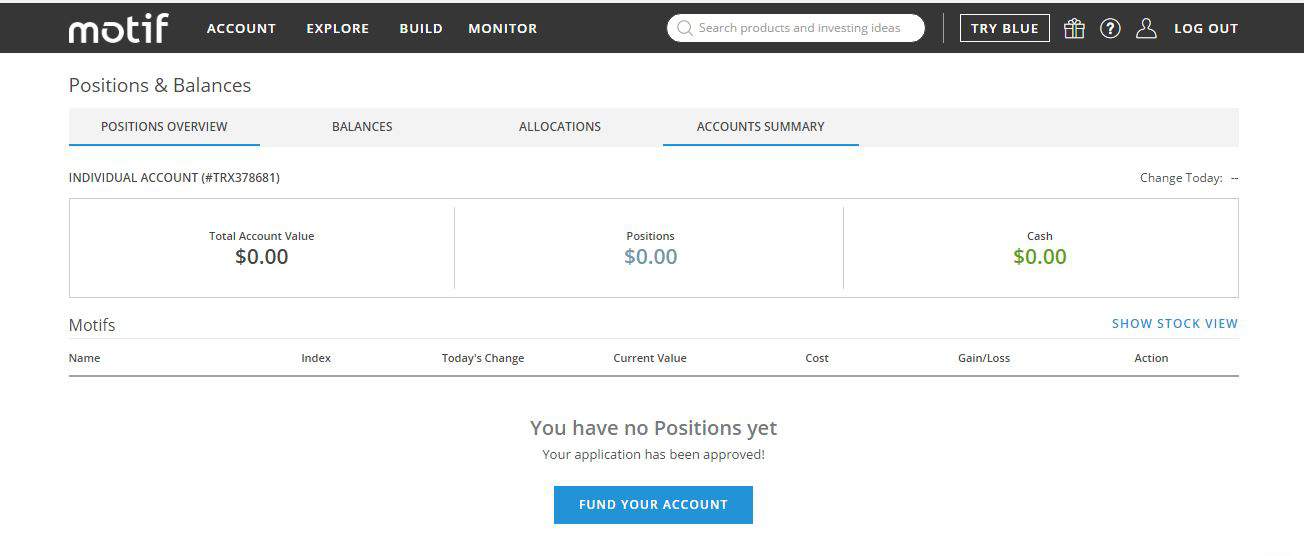 From there, you can explore existing motifs, trade individual stocks, or build your own motif. Once you've decided what you want to purchase, simply click on the blue button on the respective pages to purchase. Trades are then made in real-time.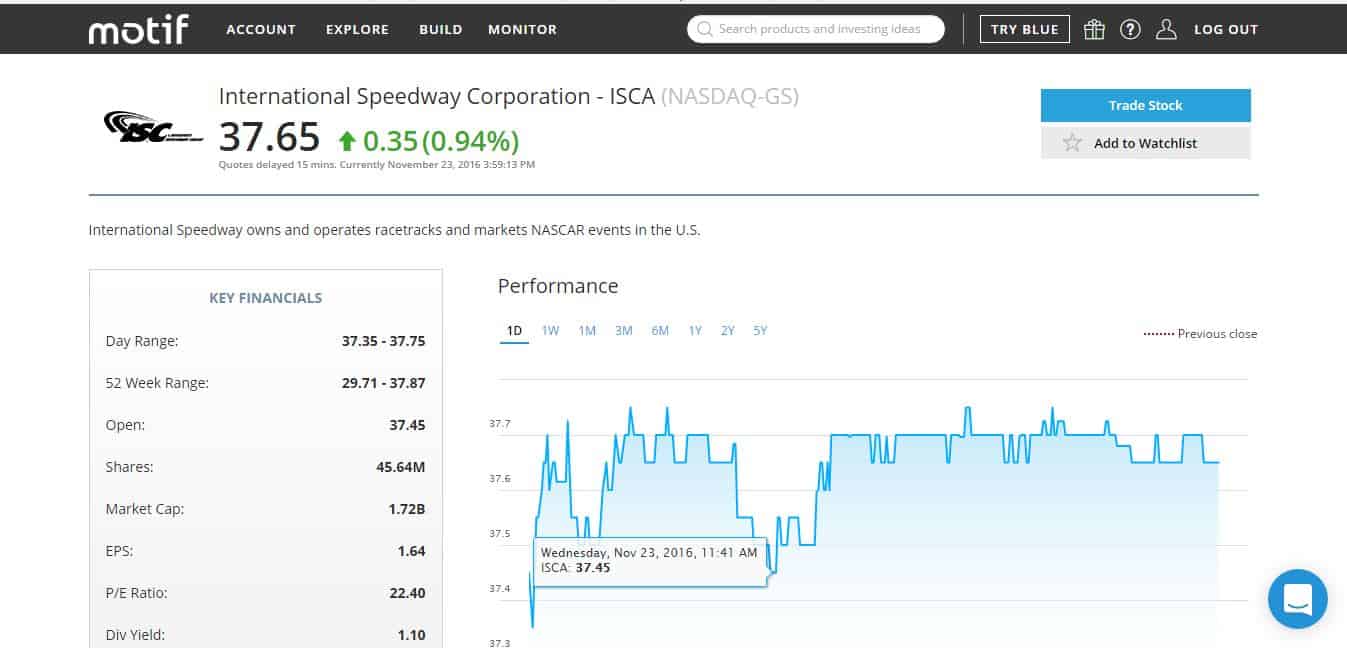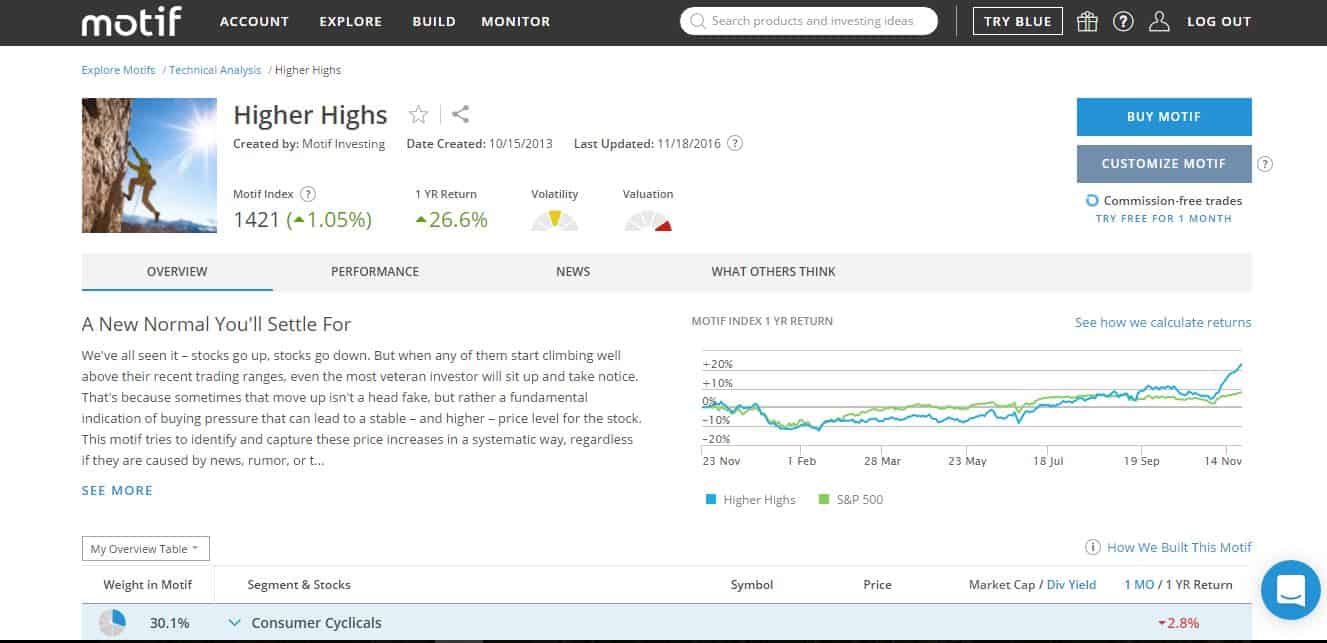 To create your own motif, simply click on "build" and search the stocks you want at the bottom of the screen and check the ones you want off the list. Name your motif and when you're ready, simply click "create motif".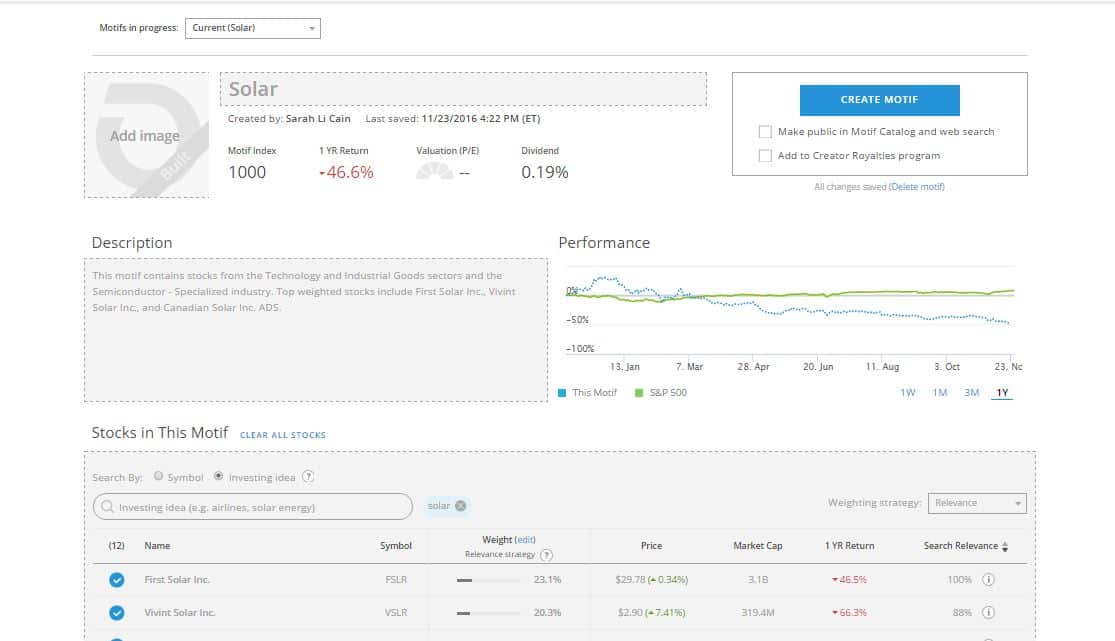 Within this platform, you can also set up alerts, add motifs onto a watchlist and learn about the latest news from their blog.
Advisory/Investor Education
Motif Investing helps customers connect with each other by giving them the opportunity to publically share the motifs they created. Users can add friends and follow others from the trading community. You can even create a persona Investing Circle to share information on your motifs as well.
The idea of this social network is to help the trading community within Motif Investing to learn and gather ideas from each other, share their experiences, ask questions and even discuss the latest trends and news.
This is also the place where you or other investor can check out the Creator Royalty Program. This program lets investors to create their own motifs from scratch and share it with others. If someone purchases a motif you created, you can earn $1 each time someone does so.
Motif Review: Bottom Line
To conclude our Motif Review, we'd emphasize that Motif differs from other investing platforms out there, and time will tell how well it'll do. For now, you can dip your ties in and would probably be beneficial to those who are looking to build an a secondary portfolio or for those who may not want to pay a lot in brokerage fees. Either way, the fees are some of the lowest out there, so it doesn't hurt to give it a try.
Motif Investing Reviews